| Product Specs | |
| --- | --- |
| Brand | All Out Athletics |
| Made In UK | Yes |
| Bar Length | 8.2ft (250cm) |
| Bar Weight | 35kg |
| Bar Diameter | 38mm |
| Bar Use | Multi |
| Knurl Type | AOA Pyramid |
| Knurl Length | Handle Only |
| Knurl Markings | None |
| Padding Type | High Density |
"…We've packed some serious weight on the SSB and not only does it remain comfortable it's stays fu*king solid. The angles are spot on and it doesn't fold you up in the bottom like some lesser bars, but you still get the required resistance. I can't sing it's praises enough, from the knurled handles to the overall look of the bar, I couldn't be happier. Another 10/10 product from the boys at AOA…"

– Adam Hindle (Co-Owner 349 Barbell, Strength Coach & Elite Powerlifter)
Please allow 5 – 7 (working) days delivery & 3 – 5 (working) days for collection.
The AOA Safety Squat Bar has been in development for a long time, we first sat down to discuss the idea around 2 years ago! But like all AOA products, the R&D phase has been extensive, seriously extensive. We knew coming into this journey that we wanted to create a Safety Squat Bar unlike any other on the market, there would be no stone left unturned, no detail left out with it's creation and it's safe to say that this objective has been completed.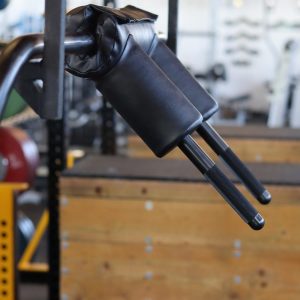 Handle Angle
The handle positioning/angle was something that we paid close attention to, we knew that this aspect of the product is an integral one to ensure that the lifter has the perfect weight distribution when bar is in use but also have no problems with balance even when not gripping the handles.
Material Quality
As always we have used highest quality bar material to ensure there is ZERO whip and it has a static load of over 2,000kg (So many companies put huge static load ratings without actually testing them but trust me when I say we enjoy playing with the forklift and seeing how much our products can handle!) 
Padding Quality
We have teamed up with one of the top upholstery companies in the UK to create bespoke padding that is not only comfortable, extremely durable and maintains its shape no matter the load placed onto it. And not only this the pads are made as one whole piece meaning that they will never slip, they will never come off the handles nor rotate when in use!
"My initial reaction was with wide eyes! The knurled handles caught my gaze first as you never see them on SSB's. Then when I got under it, it felt so comfy! It was a denser foam but more comfortable like it moulded more to my upper back and neck."
- Tom Hibbert (Owner Winning Strength Southampton, Strength Coach)
Knurling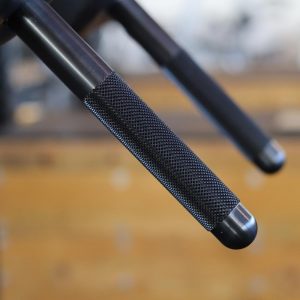 The handles are an element of the product that we believe are too often forgotten but are a KEY aspect towards the functionality of the bar. With this we decided to give our handles the AOA Knurling treatment and we are so pleased that we did.
The feedback on this element of the bar alone has been truly mind blowing! We used the trusted "Pyramid" formation that we use on the AOA Squat Barbell to create a handle where grip will never be an issue.
Product Finish Options
It is available in both AOA Black Coated or Raw (no coating just bare metal) finishes! Please note we cannot guarantee that that the product won't rust if you go with the raw option but regular application of "wd40" will help try to prevent this happening.
"...The All Out Athletics SSB is just a dream though, I love this bar!.."
- Michael Webster (125kg Powerlifter, Strength Coach)
COLLECTION DELIVERY OPTION
We now offer a collection option for delivery from our unit located in Milton Keynes, if this is of interest to you at checkout please select "collection", once your order is near completion and will be ready for collection soon (3 - 5 working days) a member of the team will be in contact via email to organise a collection date and time with you,
We ask that when you collect your order please ensure you do so with a vehicle that can easily fit your product in, if you're unsure of the dimensions please see the "Product Specs" table in each description.
PAYPAL 3 PART PAYMENT OPTION
We now offering a 3 part payment system through Paypal, please note we do not control any form of credit or eligibility within this part, you will need to have a Paypal account to apply for it and it is based upon the individual,