| Product Specs | |
| --- | --- |
| Brand | All Out Athletics |
| Made In UK | Yes |
| Bar Length | 8.5ft (260cm) |
| Bar Weight | 33kg |
| Bar Diameter | 38mm |
| Bar Use | Multi |
| Knurl Type | None |
| Knurl Length | None |
| Knurl Markings | Central Line Up |
Please allow 5 – 7 (working) days delivery & 3 – 5 (working) days for collection.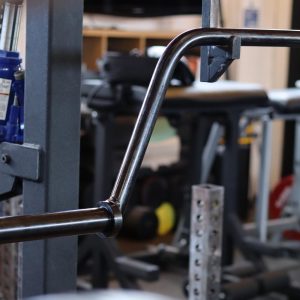 Our R&D phase towards this product has been one of the most complex we've undertaken (coming in just behind the AOA Elephant Bar) and for good reason!
When we were asked to create a cambered bar we knew that we didn't want to just release any normal form of bar, we wanted to create something special, a bar that will take any load you put onto it, a bar that will perform flawlessly every single use, a bar so brutal that it'll only produce one thing, results.
But not only this we wanted to create one of the only cambered bars in the UK where the angles have been bent rather than welded creating a much more fluid angle of use and increases the overall strength of the product dramatically,
As always we have used highest quality bar material to ensure there is ZERO whip and it has a static load of over 2,000kg (So many companies put huge static load ratings without actually testing them but trust me when I say we enjoy playing with the forklift and seeing how much our products can handle!)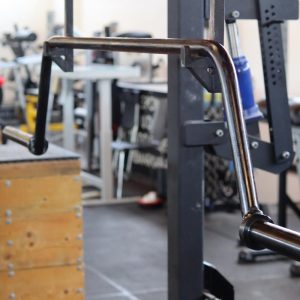 PRODUCT FINISH OPTIONS
This bar is available in both AOA Black Coated or Raw (no coating just bare metal) finishes both of these options are available on the product page, please note we cannot guarantee that that the product won't rust if you go with the raw option but regular application of "wd40" will help try to prevent this happening.
COLLECTION DELIVERY OPTION
We now offer a collection option for delivery from our unit located in Milton Keynes, if this is of interest to you at checkout please select "collection", once your order is near completion and will be ready for collection soon (3 - 5 working days) a member of the team will be in contact via email to organise a collection date and time with you,
We ask that when you collect your order please ensure you do so with a vehicle that can easily fit your product in, if you're unsure of the dimensions please see the "Product Specs" table in each description. 
PAYPAL 3 PART PAYMENT OPTION
We now offering a 3 part payment system through Paypal, please note we do not control any form of credit or eligibility within this part, you will need to have a Paypal account to apply for it and it is based upon the individual,